FREE THINGS TO DO IN PRAGUE — EXPERIENCE PRAGUE ON A BUDGET
17/01/2023 | Discover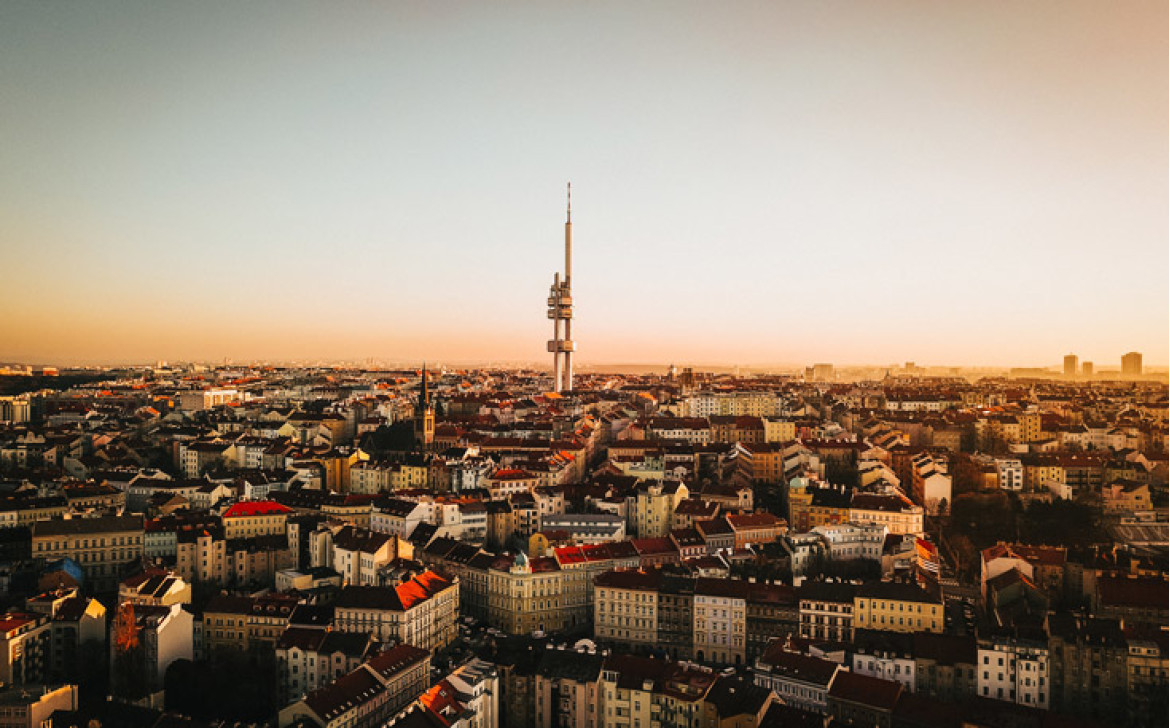 Whether you're traveling to Prague on a budget or you just want to get the most "bang for your buck" while you're here, you are in luck, friends! Not only does our beautiful city offer a number of totally free (and totally fun) activities, but it also hosts lots of places that you can visit without paying a thing, no matter what your interests may be.
We're steering clear of some of the more obvious sights and activities (e.g. walking Charles Bridge, staring at the John Lennon Wall, experiencing Wenceslas Square) and shedding light on some different spots around town that we think deserve some love too. Let's take a look at some of the best of them.
Free Art Events in Prague
Prague is often touted as being a majestic place of the past, but there's nothing more on-the-rise these days than the city's contemporary art scene. From free openings to free museums, you can definitely get your cultural fix without even dropping a dime. (Bonus points for getting free wine while you're at it.)
Let's start with the vernissages. With every new exhibition comes a free vernissage (AKA opening night). This is a chance not only to check out the exhibition completely free of charge, but also to rub shoulders with the artist, the curator, the gallery owners, and basically Prague's entire art scene. (Usually this is where you'll get that free wine mentioned above.) If these kind of events are something you're into, we recommend you look at the ArtMap website* for a list of exhibitions and openings that are happening when you're here. (PS: The vernissage always happens the night before the opening day.)
HOT TIP: Most of these vernissages will take place at smaller galleries, but if you've really timed your trip right, the National Gallery has huge (and free) opening nights two times year. They also have a few other free days on the schedule here.
* The website is in Czech, but you can download the PDF of the printed map with English descriptions here.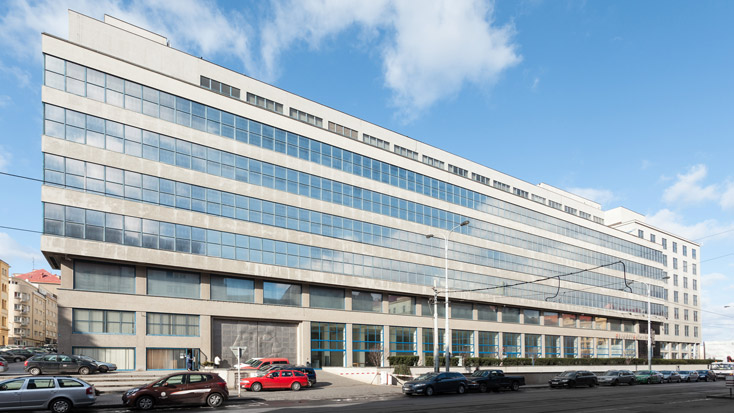 Free Galleries, Churches and Museums
Now let's talk about the places with no entrance fees.
You can find a complete list of Prague galleries on ArtMap, but it's hard to tell which ones are free and which ones require a little cash. We can help by recommending a few free ones below (separated for you by neighborhood):
With the exception of St. Nicholas Church in Malá Strana, most churches are completely free here as well! Here are some you won't want to miss:
ANOTHER HOT TIP: Be on the lookout for some great, one-off events like Museum Night (June 8 2019), Night of Churches (May 24 2019), and Architecture Day (Oktober 8–9 2019) while you're here. Not only are they fun and free, but the city also helps out with transportation!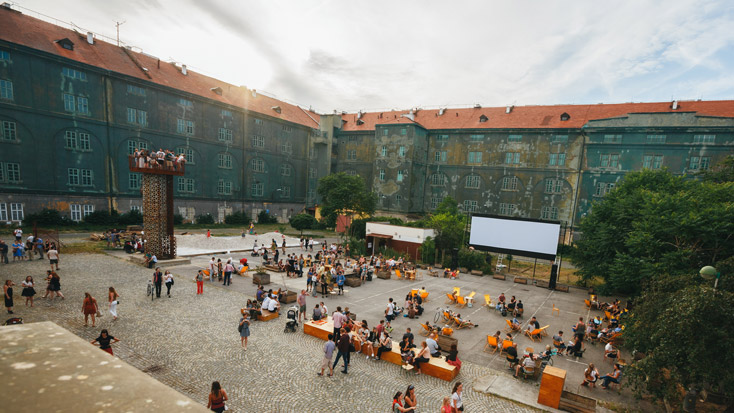 Kasárna Karlín
There's no hotter neighborhood than Karlín right now, and this "cultural oasis" is right in the heart of it. Set within a huge abandoned barracks, this spot is home to a café, cinema, gallery, bar, club, fireplace, sandpit, sport area, and more. You name it. They've got it.
What's the best part? The reason why you're reading this article. From the free cinema and gallery (Karlín Studios) to the open events and spaces, this complex definitely has something for everyone to enjoy at every time of year. (Hello, winter ice-skating!) Obviously you might have to shell out a little bit of cash for the occasional drink or performance, but make sure you check out their calendar to see what's on when you're in town.
WHILE YOU'RE HERE: This is a great time to discover what else the Karlín neighborhood has to offer. They have awesome restaurants (Lokál, Nejen Bistro, Eska… to name a few), a spot by the river where you can grill and chill (Přístav 18600), and one of the best wine bars in Prague (Veltlin). Enjoy.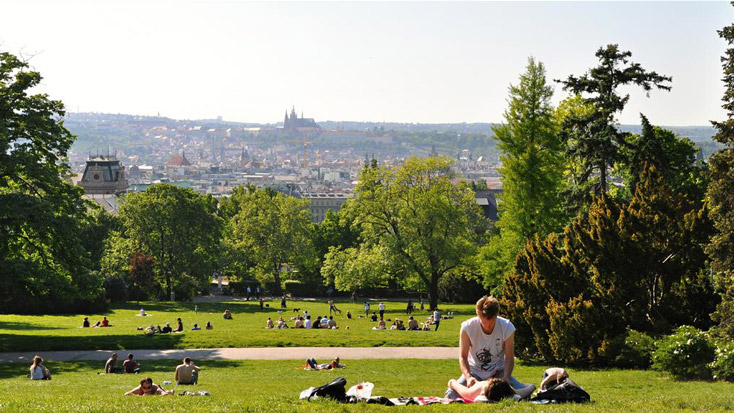 Parks off the beaten path
When the weather is nice, there's nothing better than lounging/drinking/relaxing in one of Prague's luscious green spaces. With several throughout the city, we want to highlight a few that might be a bit off the beaten path but are worthy of being explored.
Tucked away in the Vinohrady neighborhood, Grébovka (or the Havlicek Gardens) is a great escape from the bustling city center. With looming trees, vineyards, a fancy pavilion, and some interesting fountain structures, you won't even feel like you're in Prague… until you catch that spectacular southern view.
Another great spot in the same neighborhood is Riegrovy Sady—an extremely popular place in the summertime, but suitable for an anytime stroll just to capture one of the best sights this city has to offer. The view from the big hill overlooking the castle and skyline is arguably unbeatable.
And finally, if you find yourself on the other side of the river, head to Stromovka. This massive park is ideal for running, strolling, picnics, grill outs, group hangs, and more. The locals love it, and you'll see why. You can forget you are even in a city, so, try not to get completely lost, but do enjoy the peace and quiet.
HONORABLE MENTIONS: Some other great places to kick back and relax include Kampa Park, Vyšehrad, and even the Prague Castle Gardens!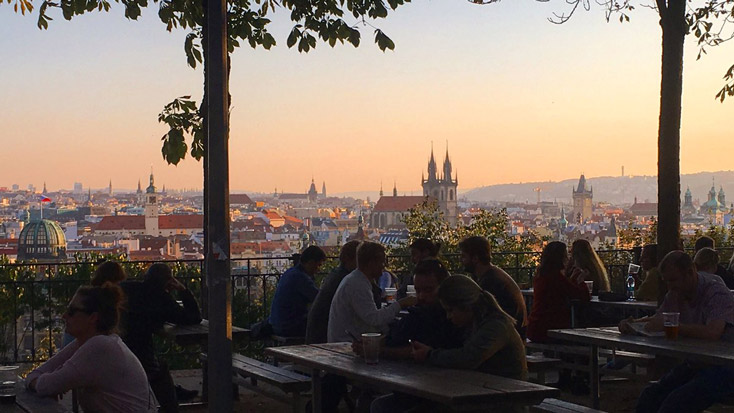 Letná & Stalin Square
While technically Letná is another park in Prague, it earns its own entry based on the multitude of things you can actually do here.
The park itself is great for wandering at any time of year, but in the warmer months this place really picks up. The Letná Beer Garden is one of the best spots in the city to drink cheap (but excellent) Czech beer, and you'll want to bring your crew and your camera because (trust us) the view is unreal.
Next, make sure you head over to the looming metronome on Prague's skyline to check out Stalin Square. Year round you'll find skateboarding locals here, but during the summer this is the place to be for fresh and free events. On the piazzetta under the metronome, you can enjoy live projects from the Prague music/art/film scene and more!
WHAT'S GOING ON: All the events at Stalin are free and happen almost every night, so check out this Facebook page to find out what's going on and when.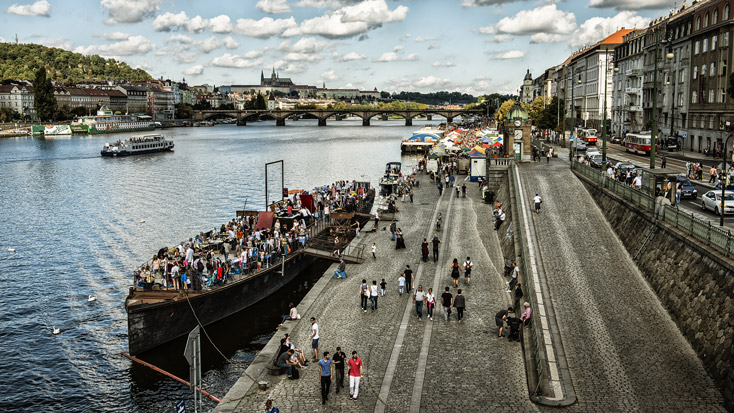 Náplavka
Speaking of summertime evening hangs… it's definitely worth checking out Náplavka. On the edge of the Vltava, this long stretch of sidewalk is known for its Saturday Farmer's Market, unique view of the city, and being packed every night of summer. It's still recommended to check out any time of year, but on warmer nights, you can expect free live music, people hanging out at the waterline, and a number of docked boats offering various beverages, snacks, and entertainment.
LOCAL TIP: If you want to avoid overcrowding, BYOB or grab a drink and walk south. There will be a lot less people, and it will be way more chill.
Food & Drinks
While not 100% free, it's hard not to mention the number of amazing food and drink events that this city has to offer. They are a great way to catch the local vibe and just so happen to be damn delicious as well. Many of them are free to attend and have amazing accompanying programs (which are the loopholes that allow them on this list), but even if you don't want to buy anything at all, they are still worth exploring.
We'll start with the Farmer's Markets. As mentioned, Náplavka has the biggest and most popular one every Saturday down by the river. Other ones that are great to wander are the market in Jiřího z Poděbrad (every Wednesday – Saturday) and the market in Dejvice (every Saturday). All markets offer fresh and seasonal fruits, veggies, meats, bread, fish, herbs, spices, wines, beers, juices… you name it. You can also expect treats from local restaurants and unique Czech crafts! It's fun for the whole fam.
I WANT MORE: If you're looking for more specific types of food/drink events, the people over at Prague.eu have a great food section on their event website.
Prague's best Free Tours
Last but not least.
We said that we'd skip the obvious spots around Prague, but we are a tour company after all. If you really want to see everything that this city has to offer without the hefty price tag, free tours are a good way to go. And we've got you covered!
Discover Prague currently offer two free tours:
Both tours promise insightful crash courses with some fun, English-speaking guides. On the Royal Walk Free Tour, you'll explore Old Town—the heart of the city. From the Astronomical Clock to David Černy's public sculptures, we'll teach you all about Prague's history, architecture, legends, peculiarities, and more. On the Prague Castle Free Tour, you'll discover the world's largest medieval castle and an area steeped in thousands of years of Bohemian heritage. You're guaranteed to learn a lot, and the views are worth it.
Both tours are awesome intros to our city, and what's even better is that they can be combined. Maximize your Prague knowledge by starting with the Royal Walk then flow seamlessly into the Castle Tour, and you'll basically be considered an expert by the end of the day.
IMPORTANT NOTE: There is no flat rate for these tours, but they are tip-based. Our guides work hard to make sure you have the very best experience, so if you enjoy yourself, make sure you share the love! Both tours start at the Tour Office (Celetná 12—just a few meters from Old Town Square). For the Castle Tour a tram ticket is required. If you don't have one you can get it at the office ahead of the tour. The cheapest ticket for 24 CZK is fine.
And that concludes our list of some amazing free experiences that Prague has to offer. We hope that you love our recommendations as much as we do, and please feel free to write us if you have any questions or comments. We'd be happy to hear your thoughts or share even more tips, and we look forward to seeing you in Prague!